April 16th is National Healthcare Decisions Day (NHDD) and will be recognized all week. NHDD, an initiative of The Conversation Project, was created to inspire, educate and empower people and healthcare providers when it comes to advance care planning. NHDD encourages people to express their wishes regarding healthcare and for providers and facilities to respect those wishes, whatever they may be.
Be prepared
Accidents, medical emergencies and all sorts of diagnoses can happen at any time, at any age. It's important for those closest to you to know what sort of medical care you want in these situations BEFORE they happen. Though a discussion about end of life care can be uncomfortable, it will be a lot easier to talk about it now around a kitchen table, than in the intensive care unit.
For many, a conversation about end of life care requires the courage to challenge cultural norms and have an open and loving discussion about the end of our journey. Death is the natural progression of life and, with advance care planning, we have the capacity to experience it the way we want.
Related: Planning and decisions regarding hospice care
Start thinking and talking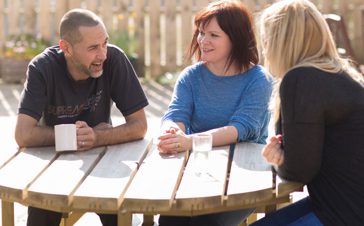 The Conversation Project provides a helpful starter kit to get the conversation going. It provides a framework on which you can build your own discussion. Discussing end of life care is not necessarily a conversation about death. It's more of a discussion about your values and what matters to you. The starter kit gets people thinking about things like how much they want to know about their condition and the extent to which they want family members to be involved. They can also express if they prefer to be in a medical setting or at home as the end nears. It even provides an opportunity to discuss any affairs they may need to get in order or family disagreements that may be a cause for concern.
There are no set rules or timelines to complete the kit – each person and family fills in the blanks as it pertains to their unique situation and it can be completed in one month or over the span of three. It's important to know that responses are not set in stone; as people age, have more children or are diagnosed with an illness, perceptions and opinions change and so can your healthcare decisions.
Make it official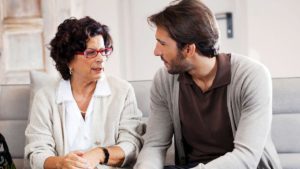 National Healthcare Decision Day brings awareness to the vital step of following through after the conversation and completing the advanced directives so the wishes you've made known are legally binding. In order for physicians and medical facilities to abide by the decisions you've made, you MUST outline those decisions in the appropriate legal documents. Otherwise, physicians and medical facilities are bound by both the law and an oath to apply whatever medical means necessary to keep patients alive. Depending on the situation, that can mean using ventilators and feeding tubes. Leaving the decision to someone else of whether or not to use artificial means of life support often leads to personal feelings of guilt and depression for that person, broken families and even legal battles. Advance directives in conjunction with an end of life discussion to provide context, however, alleviate guilt because no one has to imagine what you want and make decisions for you; they just carry out the wishes you've already expressed.
On April 16th, we encourage you to begin the process of making sure that your healthcare wishes and those of your loved ones are expressed and respected.
FILED UNDER: Home Healthcare